At Tuxedo Junction, we have men's suit rentals in NEPA available for every occasion imaginable. Many of these events don't happen all the time, and often, each one requires a different style or color scheme.
Nervous about an upcoming job interview? Dress to impress by wearing a tailored suit. It's incredible how much of a difference the right outfit and a great first impression can make. Going to a party or semi-formal? Show up looking sharp in a beautiful Caravelli suit. Setting sail on a cruise? Make the night extra special by getting all dressed up in a suit and tie.
Need a funeral suit rental? Leave all the details to us, so you can be with your loved ones.
Whatever the occasion may be, the formal wear specialists at Tuxedo Junction are here to provide men's suit rentals in every style and color. Just tell us the event, and we can help you find exactly what you're looking for.
Black Suit Rental
Includes- Coat-Pants-Shirt -TIE
Only $109.95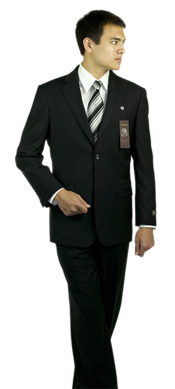 Available for purchase
CARAVELLI ITALY
In Black, Navy,French Blue, Burgundy,Brown, Tan, Grey, Ivory
Solids and Stripes- 2 Piece or 3 Piece
Starting at Only $199.00 (AFTER DISCOUNT) Coat & Pants
Tuxedo Junction 570-829-4999